Vantage Hemp's purpose-built, cGMP-compliant facilities meet the demands of high volume international clients through strong manufacturing infrastructure, data-driven processes, and an expert team from a variety of GMP-regulated industries. Our modular clean rooms can be scaled and configured for any manufacturing workflow.
"We believe Vantage has what it takes to go global and we've taken a metered, strategic approach to execution. We're prepared to overcome challenges and aren't afraid to move forward and move forward quickly. When you expand globally, each country you reach comes with a new set of regulations."
Christian Santi, Director of Sales at Vantage
State Of The Art Facilities
The extraction process takes place in two purpose-built facilities in Greeley, Colorado – the Falcon and Raven. The company's cutting-edge Greeley facilities were constructed to meet the highest standards for manufacturing pharmaceutical-grade products. The sophisticated processes can only be carried out by our experienced team of scientists.
Vantage's industry leading CBD extraction process begins in the 35,000sq.ft Falcon facility, home to the biomass storage, decarboxylation system, CO2 extraction units, and advanced testing lab.
When the CBD-rich biomass reaches the Falcon facility, it goes through testing that checks the raw materials for specifications suitable for products. The pre-testing eliminates the risks of producing unsafe products or defective drug products. Only after the hemp is examined can it be logged into inventory.
The Falcon facility has the full-scale equipment and technology to perform cannabinoid profile and moisture analyses, a series of extraction processes, and process development necessary for purification procedures.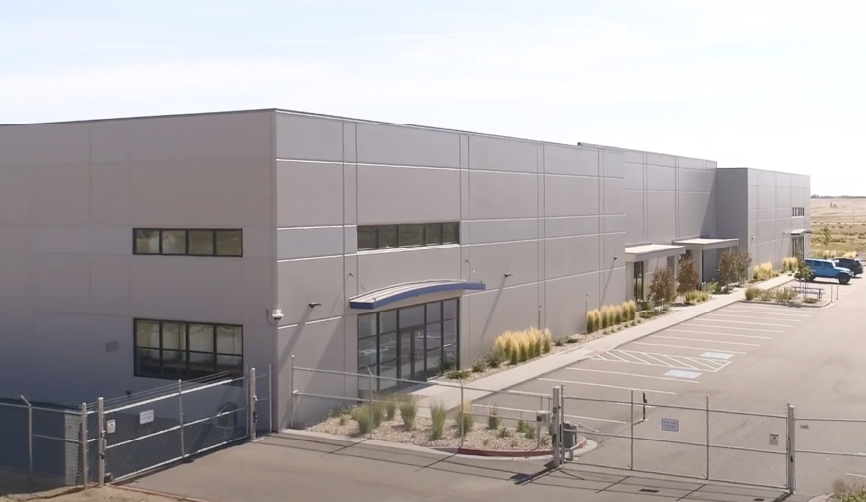 At the Raven facility, some of the most complicated processes take place: hydrocarbon extraction and inline winterization, along with other purification steps. Highly pure extracts are produced by combining CO2 and hydrocarbon extraction with extensive, cutting-edge purification to create oils, distillates, and isolates.
At full capacity, Vantage's facilities can produce approximately 250,000kg of CBD full spectrum oil, 200,000kg of CBD distillates, or 150,000kg of CBD isolates each year. Vantage's facilities have been designed to produce a pharmaceutical grade product able to fetch the highest market value and satisfy the widest array of international market needs.
Book a Private Facility Tour
The Vantage standard is met by our purpose-built extraction facilities, our pharmaceutical proficiency, and considerable investment in industry-specific innovation. We are pleased to offer private tours of our Falcon and Raven facilities hosted by our Chief Operating Officer, Deepank Utkhede. 
cGMP Compliance in the CBD Industry
The  US Food and Drug Administration is currently investigating the CBD industry to establish new and effective policies, but today the industry suffers from loopholes. For this reason, Good Manufacturing Practices (GMP) play a significant role in ensuring product safety. CBD companies are not obliged to report, but have an opportunity for self-regulation to the strictest manufacturing standards. GMP compliance is an indicator to stakeholders across the CBD supply chain that CBD products are examined and manufactured under strict GMP guidelines. The highest quality is guaranteed when a third party is involved in helping to regulate the processes.
What Is cGMP CBD?
The hemp industry isn't well-regulated, which is why some CBD companies cut corners and save costs by producing low-quality products. Current Good Manufacturing Practices (cGMP) is a safety protocol that CBD companies follow during the manufacturing process. This means the company uses current methods that are scientifically proven and also kept up-to-date. Using the latest discoveries and techniques is highly encouraged if those are aligned with the cGMP standards.
cGMP CBD products are formulated and produced to eliminate human error. Under cGMP all ingredients have been tested, examined, and properly processed to create a finished product that is safe, effective, and consistently-produced.
Vantage Hemp's cGMP Certifications
Vantage Hemp takes GMP and cGMP compliance seriously. We have worked intensively to improve and develop manufacturing operations to ensure all CBD products meet the required conditions for cGMP Manufacturing. These include controlling every step of the manufacturing and materials sourcing process, keeping valid records, and testing batches for safety, potency, and consistency.
In the currently-regulated market, consumers may be unable to verify the quality and safety of CBD products, but they may rely on cGMP compliance that ensures purity and quality throughout the CBD product manufacturer's supply chain. cGMP requirements are designed in a way that protects consumer health without limiting or constraining CBD companies in their product formulations and innovations.
Vantage's cGMP certification was rightfully earned as every step from harvest to sale has been maintained to the highest standards. We deploy innovative manufacturing practices adjusted to cGMP regulations. The company has the flexibility to continue developing its processes without sacrificing the quality of products.
Additionally, Vantage has cGMP certifications of American and European standards. The manufacturer holds a GMP compliance enforced by the FDA through its submission of a Drug Master File (DMF) and GMP compliance that was introduced by the World Health Organization and adopted in the EU, Canada, and other countries.
Vantage is also a member of the European Industrial Hemp Association's Novel Foods Consortium.
cGMP-compliant CBD in Food
Working with Vantage Hemp, ensures pharmaceutical grade CBD food ingredients produced at scale, with consistency, and on time. Our rigid compliance with cGMP standards, adherence to state and federal food handling regulations, and international trade experience, combined with our data-driven approach, eliminates errors and defects – ensuring food safety for your customers.
Order a Unique CBD Infused Food for Your Brand
Vantage Hemp is a white-label CBD extraction company that provides a comprehensive selection of compliant, safe, and tested CBD ingredients that are prepared for further formulation, product innovation, retail branding, and wholesale distribution.
Vantage Hemp Co. manages the entire supply chain from hemp seed at the farm to finished goods on the shelves in order to deliver products of pharmaceutical quality. This is done using sound scientific principles and data-driven development. We guarantee a production process that consistently yields premium-grade CBD full spectrum oils, CBD distillates,  CBD isolates, and finished goods by combining certified agriculture with real science and decades of pharmaceutical manufacturing experience.
With rising demand for CBD foods, the food ingredients market is filled with a wide range of products of varying quality. Vantage Hemp can deliver CBD food ingredients and CBD infused foods manufactured to global cGMP standards. We can ensure purity, consistency, and the highest quality of the products. 
Let Vantage handle your materials sourcing. product formulation, innovation testing, and finished goods manufacturing so you may focus on your marketing plan and bringing your products to market.
Raw Ingredients
Our GMP-certified extracts are versatile and can be used to create a range of edible CBD products. With teams that have years of experience in the CBD industry, Vantage is ready to meet your business needs and exceed expectations with high-quality CBD food ingredients.
CBD Edibles
CBD edibles are one of the most popular choices for consumers because they are easy to use and come in different forms and shapes. The most popular CBD infused foods are formulated with CBD isolate powder or pure CBD distillate with the terpenes stripped out. Some of the ideas your company can start a new line with:
CBD Gummies
With options for vegetarian and vegan CBD gummies, and a huge variety of formulations and formats, CBD gummies are one of the most abundant forms of CBD edibles.
CBD Chocolates
Formulated with naturally fat-soluble CBD, chocolatiers are experiencing a flavor renaissance working with hemp and terpene formulations to produce CBD chocolates.
CBD Candies
CBD Hard candies and CBD chews are a common means of time delayed CBD delivery.  People enjoy the slow onset of CBD and the product may be combined with other medicinal ingredients or herbs.
CBD Capsules
Food-grade CBD capsules and powdered CBD supplements are gaining popularity as CBD is added to traditional supplement formulations.