CBD – Transparency & Regulation for Consumer Safety
CBD (cannabidiol), one of many cannabinoids derived from the plant Cannabis sativa L. (cannabis), has gained great popularity among consumers in recent years. The exponential growth of CBD in all consumer product categories might be taken to suggest that CBD from all sources is completely legal in the United States, but that understanding would be very mistaken. In fact, to date, there remains only one FDA (Food & Drug Administration) approved CBD medication on the US market, Epidiolex, which is indicated only for specific hard-to-treat forms of epilepsy. Even though there has been huge movement globally in the cannabis and CBD landscapes, it's this continued ambiguity around legality that has led to confusion and danger for producers and consumers alike.
Hemp-derived CBD in the USA – Where We Were
In the eight decades before the passing of the 2018 Farm Bill, cannabis material of any kind was illegal in the United States under the '[Cannabis] Tax Act' and later the 'Controlled Substances Act.' Prior to 2018, US federal law did not differentiate cannabis plants according to cannabinoid levels. The 2018 Farm Bill succeeded in federally legitimizing the cultivation of 'hemp' by removing it from DEA (Drug Enforcement Administration) oversight. Under the Federal Food, Drug and Cosmetic Act and the Public Health Service Act, the FDA has maintained authority and jurisdiction over hemp-derived CBD and the products that contain it. DEA provided guidance on the definition of hemp in 2020, indicating that hemp is cannabis that contains no more than 0.3% THC (delta-9-tetrahydrocannabinol) by weight, which means that cannabis plants intended as hemp that breach the 0.3% THC threshold are federally illegal. Commonly referred to as a 'hot' crop, cannabis farmed for hemp whose THC content exceeds the legal maximum may yield severe legal repercussions, and, at the very least, near-certain destruction of the plant material.
CBD – An Update on the State of the State
Just this past March, President Biden signed the 2022 omnibus spending bill in which the FDA was tasked with setting CBD enforcement policies within 90 days of the package's adoption. This spending bill made clear that the FDA must establish safety and efficacy data for CBD through both internal and external research. In alignment with existing hemp industry stakeholders, the 2022 bill further directed that the USDA should work with the Department of Health and Human Services and the DEA to review the scientific basis for the current 0.3% THC barrier for industrial hemp and, if appropriate, suggest an alternate THC limit. Unfortunately, a recent decision from the DC Court of Appeals has maintained the DEA's 0.3% THC definition for hemp, as it ruled against a 2020 petition made by the Hemp Industries Association and RE Botanicals, Inc., who argued that the DEA was in violation of the 2018 Farm Bill. With this ruling, hemp extracts become illegal cannabis immediately upon violating the 0.3% THC limit, which puts most CBD extraction procedures in question as they temporarily go above 0.3% THC.
CBD Under FDA – Where Are We Going?
The large emergence of CBD in retail sales makes it imperative for the FDA to set regulatory guidelines for stakeholders, and, most importantly, for consumers. The FDA's first public hearing to evaluate the current and future direction of the CBD industry, held in May of 2019, exposed a fragmented industry challenged by a wildly confusing and inconsistent regulatory landscape, and deeply concerning issues such as unacceptable levels of lead contamination, dangerously incorrect labeling information, myriad unfounded health and wellness claims, and lack of quality standards and consistency.
Move Forward with Vantage
Consumer safety and satisfaction depend on clarity and transparency from their lawmakers, regulators, and producers. Vantage is dedicated to producing high-quality hemp-derived CBD under existing pharmaceutical regulatory frameworks and processes, as evidenced by its submission of a Drug Master File (DMF) to the FDA for its CBD materials and processes. By building on these well-established mechanisms, Vantage has made clear its confidence in the robustness and reproducibility of its processes and procedures, providing the solid foundation clients need when applying for FDA approval of their drug product(s).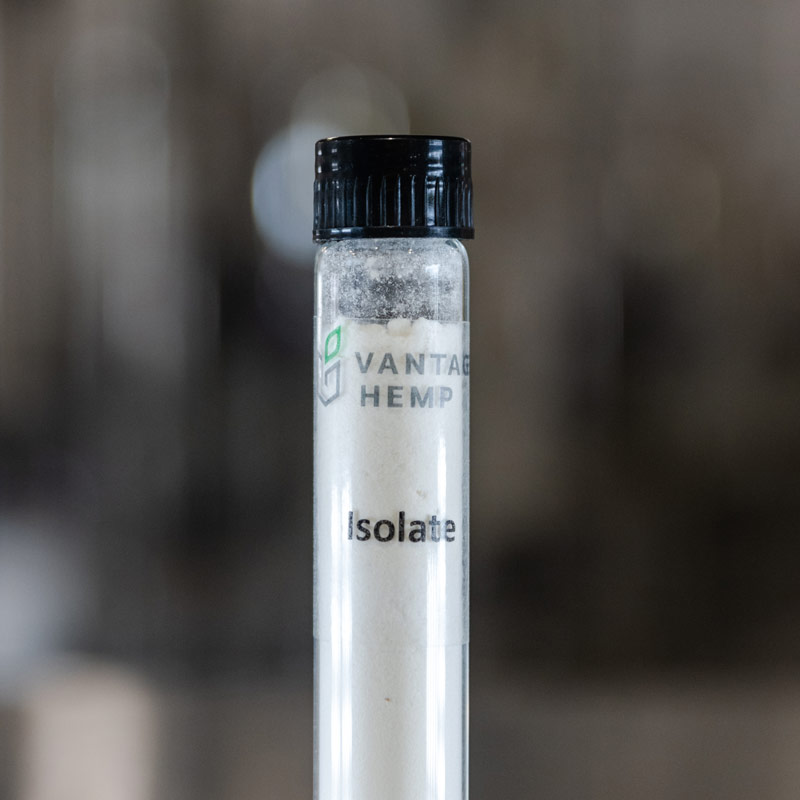 Chief Revenue Officer at Vantage, Harvinder Johal, asserted, "Vantage is unique in our position that hemp-derived CBD products must be manufactured and audited under Current Good Manufacturing Practice (cGMP) to ensure the production of high-quality products that can be trusted for safety and strength. Clients partnering with Vantage will reap the rewards of our R&D and production capabilities, transparency to regulatory bodies, and compliance with the highest possible industry standards." Laura Eder, Director of Regulatory Affairs & Quality Assurance added, "We are huge proponents of consumer education on CBD and how to safely and thoughtfully incorporate it into health and wellness regimes, but it is up to lawmakers, regulators, and us, the subject matter experts and industry leaders, to ensure delivery of safe high-quality hemp-derived CBD products."